David Bell – A Message For Leaders Who Are Facing Digital Transformation
David Bell, co-founder of Idea Farm Ventures and leading authority on Digital Transformation, will be speaking at the World Business Forum 2023, in London!
World's most influential leadership coach
World-renowned business educator and coach, Dr. Marshall Goldsmith is ranked as the #1 Executive Coach in the world. As an educator and coach, Goldsmith helps executives understand how our beliefs and the environments we operate in can trigger behaviours – both positive and negative. Through simple and practical advice, he helps them achieve and sustain positive behavioural change to drive positive impact on their organisation. Goldsmith is the author and editor of 36 books which include What Got You Here Won't Get You There and Triggers, both recognized by Amazon as two of the Top 100 Leadership & Success Books Ever Written.
High Performance Leadership in Times of Change
The characteristics of high performing leaders: Developing ourselves, coaching our people, and building engagement

Leading high performing teams: Increasing happiness and employee engagement

Creating behaviour change that lasts: Keys to becoming the people and organisations we want to become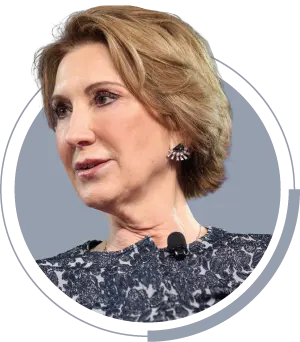 Chairman and CEO, Hewlett-Packard Company (1999-2005) and Best-Selling Author
A passionate, articulate advocate for problem-solving, innovation, and effective leadership Carly Fiorina was the first woman ever to lead a Fortune 50 company when she was recruited to lead Hewlett Packard (HP) in 1999. Under her leadership, revenue grew, innovation tripled, growth quadrupled, and HP became the 11th largest company in the U.S. Her breadth of experience spans from marketing to manufacturing; from sales to strategic planning; from HR to R&D; from finance to engineering to supply chain and logistics. She has led teams and organizations in the private, public and social sectors. Today she is the founder and Chairman of Carly Fiorina Enterprises, and of Unlocking Potential, a non-profit organization that invests in human potential by supporting local leaders who are solving problems in their communities and places of work.

LEADING ORGANIZATIONAL TRANSFORMATION
How to increase the problem-solving and leadership capacity of organizations

What it takes to help others reach their highest leadership potential

A blueprint for navigating uncertainty, managing change, and building a high-performance culture

What it takes to drive transformational change
Co-founder of Idea Farm Ventures and leading authority on Digital Transformation

Named the "guru of the consumer economy," David Bell is a pioneer in business transformation and integrating the real world with the digital. He is author of Location Is (Still) Everything: The Surprising Influence of the Real World on How We Search, Shop and Sell in the Virtual One, award-winning academic research, and MIT Sloan Management Review bestsellers. As a Chaired Professor during a twenty-year career at The Wharton School, he started the first course on Digital Marketing and E-commerce.
As an early stage venture capital investor and co-founder of Idea Farm Ventures, Bell has invested in and advised category-defining companies including Diapers.com, Jet.com, Bonobos, Harry's, and Warby Parker, among numerous others, several of which have exited or been valued at over a billion dollars.
Creating Digital Leverage and Business Transformation
How frictions in the digital and physical worlds create opportunity for digital leverage

Why digital natives (Gen Z) and digital pioneers (Millennials) shape opportunities and demand "better-for-you" products and services

Keys to delineate digital innovation and digital enhancement

How to implement business models made possible by digital leverage

Learning how to speak the language of digital leverage and implement it
Entrepreneur and Creator of Lazy Town

Creator, director and protagonist of the successful children's television series. LazyTown, Magnus Scheving has taken advantage of his infectious creativity and entrepreneurial spirit to promote the nutrition and health of children into a global brand. Broadcasted in more than 170 countries and reaching over 500 million homes, LazyTown has won various awards including a BAFTA, renowned US Telly Awards, and has received two Emmy award nominations. The company is responsible for producing books, videos, games, and sporting goods with the mission to promote fitness and a healthy lifestyle to children. The TV series remains Scheving's core asset as it continues to be broadcast worldwide.
LazyTown: The Journey from Personal Mission to Global Brand
The philosophies and beliefs that underpin the most successful leaders

Keys to staying creative: How to embrace risk and move out of your comfort zone

The role of the leader in developing a recognizable and lasting style for your brand

Redefining profit: Building a company ethic that focuses on more than finance

Cultivating the positive attitudes that will allow your organization to flourish
Leading expert on trust in the modern world

Recognized as one of the world's 30 most influential management thinkers, Rachel Botsman is the author of two critically acclaimed books – What's Mine is Yours and Who Can You Trust? She created Oxford University, Saïd Business School's first course on trust in the digital world, and her writings on trust have been widely published in the Guardian, Financial Times, The New York Times, Harvard Business Review, and Wired. Named one of the Top 10 most influential voices in the UK on LinkedIn, Rachel has been honoured as a Young Global Leader by the World Economic Forum and her TED talks have been viewed more than five million times. In addition she is host of the podcast Rethink Moments, and the BBC series Money, Money, Money.
Earning Trust in Times of Uncertainty
Why trust is the social language of exchange that oils the wheels of business

The forces that define how to establish, maintain and destroy confidence

What organisations can do to build trust during periods of uncertainty

Developing new mindsets and principles that will transform how we think about brands, experiences and behaviours
Subscribe for free to our monthly newsletter for exclusive content and the latest news about WOBI's world-class learning programs